Custom Solutions – Vent-free
Custom vent-free gas log or Alterna sets are not feasible.
Rasmussen only sells vent-free sets that are certified to the national standard for vent-free heaters, ANSI Z21.11.2.  The cost of product development and certification to this standard is between $50,00 and $100,000 per set.  Accordingly, one-off certifications would not be feasible for most people.
Per the standard, all vent-free gas log or Alterna sets are for use in either a fireplace designed for wood burning (in which the damper may be closed, open or in-between), or in a certified ventless firebox enclosure (made by many of the leading fireplace manufacturers).  Custom made vent-free fireboxes do not fit into either acceptable category.
This standard is the most restrictive of all gas appliance standards.  Among other design and performance restrictions, it permits no more than 40,000 BTU/hour of gas consumption, regardless of the size of the fireplace.  Thus, stretching this amount of gas to sets larger than our 30-inch sets with acceptable flame height is unachievable.
It is best to either select a vent-free set from our existing, extensive offering, or if in the design phase, to redesign the fireplace to be a fully vented wood-burning fireplace, for which we have many more design options.
Related information – Custom Vented Solutions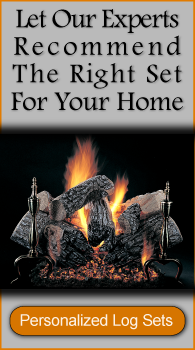 Vented Logs
Vent Free Logs
Not Finding What You Need? Go to…