For use in fully vented fireplaces
The Modern Alternative to a log fire
FireStones™ for those with contemporary decor, for those with a modern flair, for those yearning for an alternative to the ubiquitous gas log and for those who just want something different.
FireStones are made from the same high-heat resistant ceramic-bonded refractory material we use in the making of our gas logs – they will not explode like real stones when placed in a fire. Standard sets are available in the popular sizes, or in four different assortment packs.
FireStones sets are used on our Custom Pan Burners (CS) for single face, double face and multi-sided fireplaces. Custom Embers Pan Burner (CXF) is for single sided fireplaces only. Please contact us with your fireplace dimensions and set composition desires if you do not see anything to your liking from our offering.
FireStones sets and assortment packs are available in single colors Natural Color (tannish gray, the base material color) and seven Ceramic Stain colors made from Rasmussen's proprietary formulation, including White, Black, Dark Gray, Light Gray, Beige, Brown and Adobe Red. See a ceramic color pallet here. We also have sets with complimentary color combinations, such as:
* Calico (CX) (White, Black, Light Gray, Beige, Brown and Adobe Red)
* Black/White/Beige (BWB)
* Black/White/Light Gray (BX)
Or create your own unique look by combining assortment packs of different colors. See a color pallet here.
---
---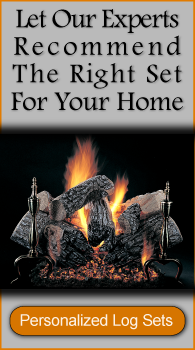 Vented Logs
Vent Free Logs
Not Finding What You Need? Go to…