Vent-Free/Reduced Vent
Chillbuster CoalFire Fireplace Heater
Chillbuster CoalFire is a vent-free coal effect gas fire set that Rasmussen has designed in response to customer's needs, such as:
Victorian, coal burning or fireplace which was not designed for burning wood, but has a flue.
Flue is very small in comparison to the area of the opening, which may result in spillage of combustion products into the room.
Chimney is old. As a result, fireplace cannot be used without an expensive reline or reconstruction.
Shallow depth of the fireplace. Most traditional gas log sets require a minimum of 12″ of depth.
You like the appearance of a coal-effect basket as something different from what everyone else has in their fireplace.
You want to turn your unused fireplace into a source of heat for the room.
Chillbuster CoalFire Fireplace Heater ("C9" series) incorporates the following features:
State-of-the-art lanced-port opposed-louver burner, the heart of all Rasmussen Chillbuster vent-free gas logs since 1994.
Two control options: (1) Variable Flame Height Wireless Remote Control (control the flame height like a TV volume control), and (2) Millivolt control, which can be operated with either the installed switch or a variety of accessories, such as a wall switch, thermostat, wall timer or wireless remote control (on/off only).
Heating Unit (burners and control) can be purchased separately to be used with any basket in which the bottom is removed.
Two sizes of Heating Units: (1) C9A – 33,000 BTU/hour max.; and (2) C9B – 40,000 BTU/hour max.
The coals are made from the same refractory material from which we make our gas log sets. No potentially harmful ceramic fiber.
Chillbuster CoalFire – Classic
---
Chillbuster CoalFire – Americana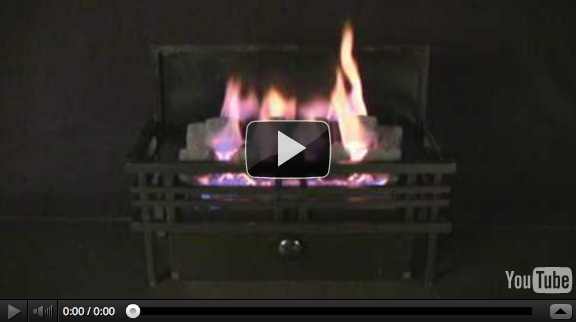 ---
Chillbuster CoalFire – Moderne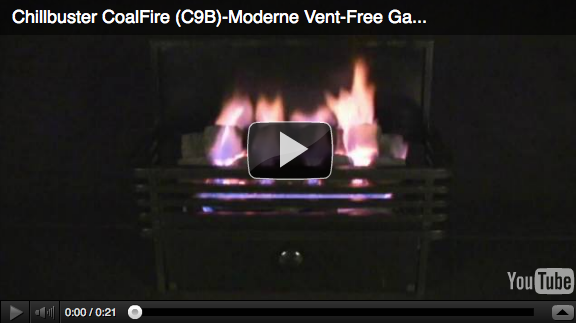 ---
Dimension Information for Chillbuster™ CoalFire™ Fireplace Heater
Footprint Dimensions. Your fireplace must be able to accommodate the following dimensions for the basket to fit within your firebox.
The absolute minimum fireplace depth is 6.5″, which is the maximum forward-most projection of the flame.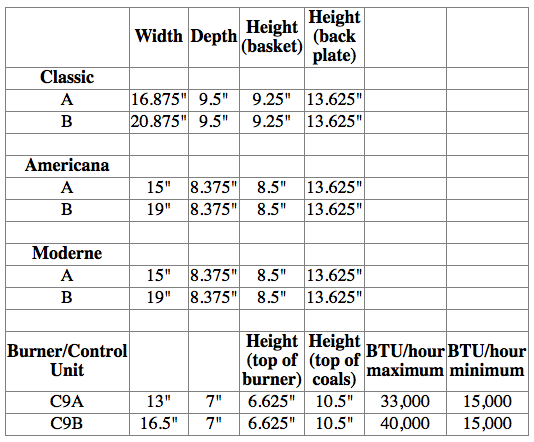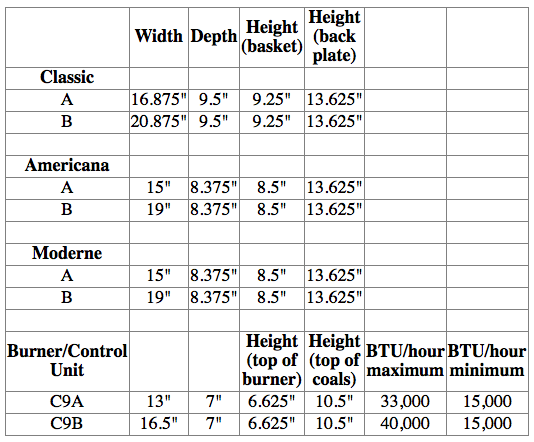 The burner control units are available with our "EASY" Remote Ready Control (transmitter device required for operation – see prices for options) and Variable Flame Height Remote Control, for Natural Gas and Propane.
The lowest point of flame is about 5 1/8" from the floor. Everything below that is the "guts" of the system
(burner venturis, control valve, plumbing). The glow starts at about 5.5″ and emanates from stainless steel
pieces that hold the coals, as well as from the coals themselves.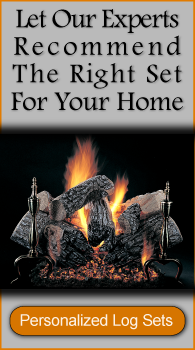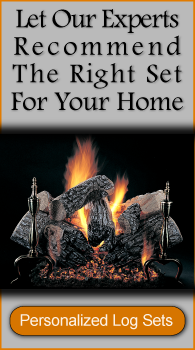 Vented Logs
Vent Free Logs
Not Finding What You Need? Go to…