Watch video to learn more about the benefits of the Valve VanisherTM
---
The Valve VanisherTM addresses the three biggest issues regarding Electronic Ignition and Millivolt control systems when installed with gas log and contemporary fire sets:
Eliminates the "Big Ugly Box" (see image on the right).
Eliminates the off-centering or downsizing of the log set to accommodate the placement of the Big Ugly Box.
Places the heat sensitive controls in a cooler zone, reducing service calls and increasing the life of the controls.
The Valve VanisherTM raises the log set by 2 5/8″, creating a false floor under the burner where we locate the control system. In fireplaces with a dropped firebox or with a screen or glass door frame, this slight elevation may make the log set more viewable.
The Valve VanisherTM can be obscured (with twigs, pine cones, mound of glass or volcanic ash, for example), but the air slots must be kept open for air flow to keep the valve and control module cool. The air slots can be "hidden", but not "blocked shut".
The Valve VanisherTM is available in:
– Sizes from 15″ to 30″
– Electronic Ignition (pilot-on-demand, variable flame height remote) and Millivolt (standing pilot, switch/remote ready) control systems;
– Natural Gas and Propane (not available in TNA30E-NG due to BTU capacity of the valves).
– The following vented burner styles:
Flaming Ember (F)
Flaming Ember "XTRA" (FX)
Double Face Custom Embers (DF-CF)
Custom Pan (CS)
Custom Embers Pan (CXF)
Multi-Burner (LC)
TNA for Rumford Fireplaces
FireLine (FGV/FDV/FLB)
All Valve VanisherTM Systems are fully factory assembled and operationally tested. Installation merely requires attaching the gas supply; placing the pan filler and embers; and placing the logs, stones, balls, shapes, glass or drops.
F, FX and DF-CF with the Valve VanisherTM (EIS and Millvolt controls) are certified to ANSI-Z21.60 Decorative Fireplace Gas Log Standard.
Electronic Ignition Systems are powered by four AA batteries (included). The 9-volt battery powered hand-held transmitter is included, and is used to turn the burner on, raise and lower the flame and turn the burner (and pilot) off. The EIS system used with the Valve Vanisher cannot be interfaced with home automation systems, exhaust fans or automatic dampers.
The Millivolt Control System derives its power to operate from the standing pilot and thermo-generator. After manually lighting the pilot, it provides ON and OFF control from the switch installed on the front. It can also be operated from a wall switch, wall timer, or wireless remote control (all sold separately). Millivolt Controls are compatible with home automation systems, exhaust fans and automatic dampers.
Because of the configuration of the valves, the gas inlet is always on the right side. If your gas supply enters the fireplace from the left, you will need to route a gas line or connector tube(s) behind the log set to connect to the valve inlet on the right side.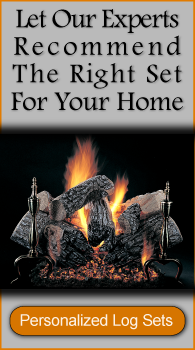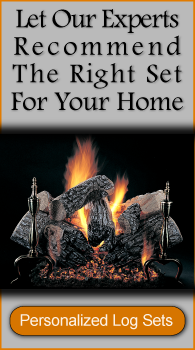 Vented Logs
Vent Free Logs
Not Finding What You Need? Go to…