Custom Solutions – Vented
Custom Designed Vented Gas Log Sets for Large and Unusual Fireplaces
Many fireplaces are not well served by the installation of a standard gas log set. Large dimensions in height, width and/or depth are not adequately addressed by off-the-shelf gas log sets. For those who do not want their magnificent, grand fireplace to be left with an out-of-scale stack of twigs, Rasmussen offers custom-designed gas log sets. Rasmussen can provide you with a gas log set that fits the size, shape and scale of your fireplace.
Custom Designed Gas Log Sets are sold on an as-quoted basis and are only for installation in fireplaces with a fully-functioning fireplace in which it is safe to burn wood. Please contact us with the following additional information so that we may provide an informed quotation:
– Front width of the firebox
– Rear width of the firebox
– Depth of the firebox (front to back)
– Height of the opening
– Gas type: Natural or Propane
– Size of Gas Line and inlet pressure
– Location of gas supply into the firebox (wall or floor. If floor, where in the firebox).
– Do you desire: Match lit (vented natural gas only); Manual safety control (natural gas or propane); switch (natural gas or propane); wireless remote (natural gas or propane); or electronic pilotless ignition (special installation requirements apply)?
– Your city/state.
– Style(s) desired or other description of expected finished appearance.
Related information – Custom Vent-free Solutions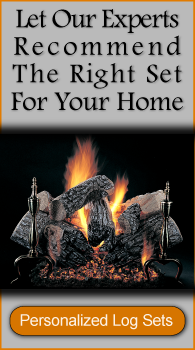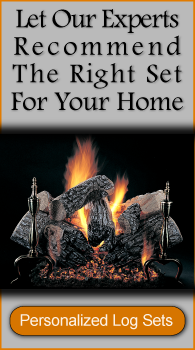 Vented Logs
Vent Free Logs
Not Finding What You Need? Go to…